Women of Courage: Omayma Ramzy
Omayma Ramzy: Celebrity Makeup Artist & Creator of Omayma Skin
I am excited to introduce you to the newest addition to the Women of Courage Blog Series, Omayma Ramzy. She is the creator of Omayma Skin and a celebrity makeup artist. I love her skincare serum and her courageous journey to start a new business during the pandemic. Check out her story - her definition of courage and true beauty - in our Women of Courage series below. xo- TN
- About Omayma's World -
You are the creator of Omayma Skin-- a clean, vegan and organic skincare line. What made you take the leap and start your own line?
Having a skincare or makeup line had been a major dream of mine for such a long time! After being a makeup artist for over a decade, and working in fashion and beauty I had been learning so much by just being around it. About a year and a half ago my dad passed away, and he truly was my number one cheerleader. Any time I wanted to do or achieve anything, he'd be the first person to say "Yes, you can!" This really inspired me to find a way to achieve a dream of my own, in a way that celebrates the Egyptian heritage and culture that my father gave me, and so he really was a major driving force to giving me the confidence that I can do it.
Was this an easy transition for you, coming from the beauty world?
I don't think any one starting a brand for the first time has it easy! But, I will say, I am truly certain that having my background and incredible friends in this industry has made everything click so well, and so I suppose I do have it much easier than many in that regards.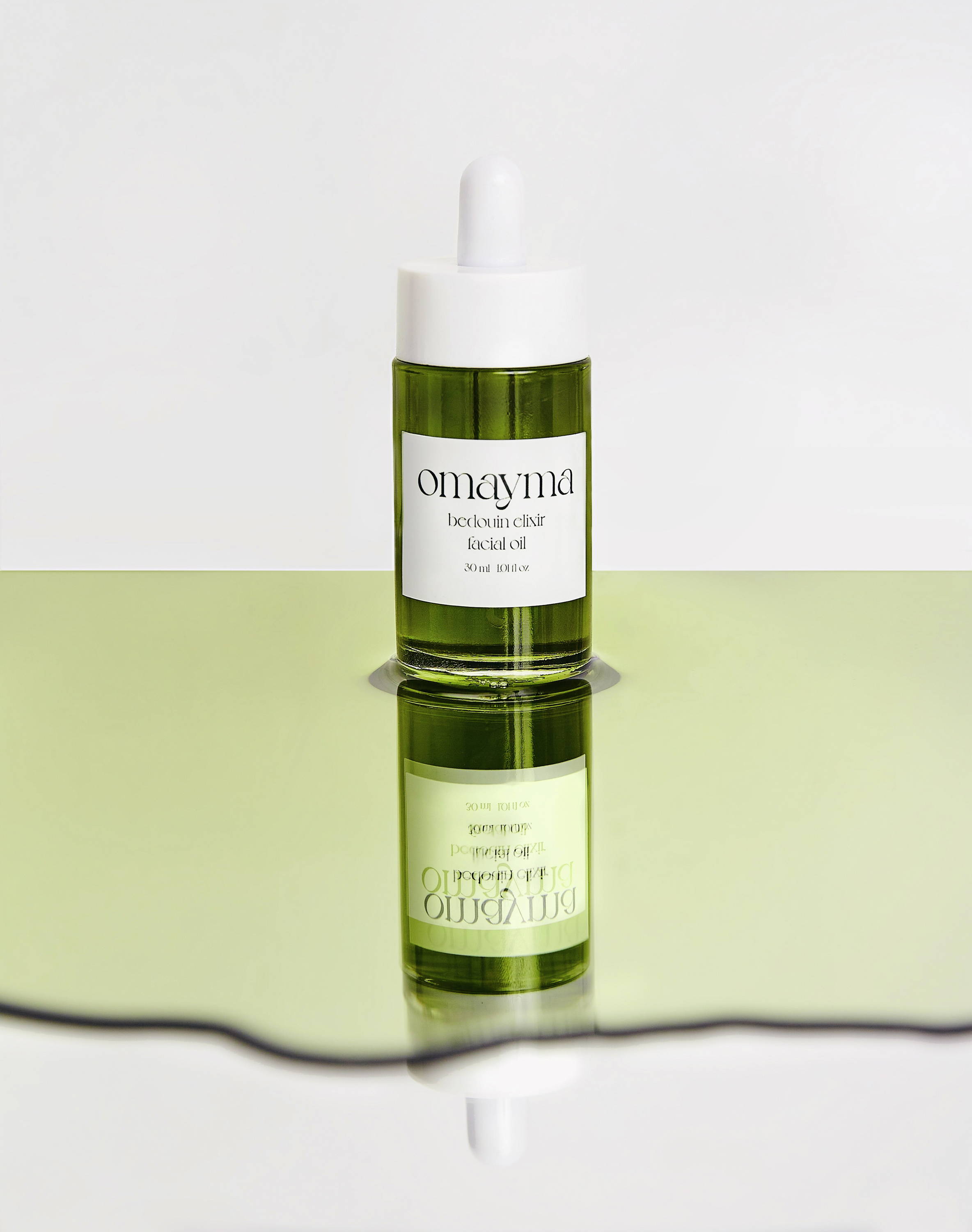 Where did you grow up?
I was born in London, and then grew up in the South of England, in Sussex for the most part. My parents were both touring artists. My dad a musician and mother an actress with the Royal Shakespeare Company. I was very lucky that this gave me so many opportunities to see the world at such a young age, traveling with them around the world.
What is one of your favorite childhood memories?
A birthday party we had for me at the local swimming/sports centre called "The Kings Centre" in my town. I must have been 4 or 5. All my friends were there, my parents, cake, balloons, what's not to love!
You have been selected as our "Women of Courage" this month. Can you tell us what Courage means to you?
To me, courage means finding the strength to continue believing in your truth, to continue making your future, and to continue bringing love and light to the world. It's about staying true to what I believe, even if that means not following the obvious or easy path.
What is one of the biggest challenges you face and what gives you the courage to face that challenge?
Probably the balance of being satisfied with what I have achieved so far vs what I want to achieve next. I feel that as an artist and in any role, we are constantly comparing ourselves to our peers and those above us. It can take quite a wear on me when I pay too much attention to not being good enough, but I've found having goals and ambitions as a driving factor also does wonders. The courage for me is to revisit my goals frequently and look, enjoy the moments when I've come a little closer to something I wanted, and focus on the next steps to get where I want next.
Tell us something you believe in.
The beauty in everyone! I believe every single person is beautiful and has beautiful qualities. There's nothing that makes me happier than when I get to help someone find their inner beauty, or giving them the confidence to see their own beauty.
Besides the beauty world and helping to keep our skin as healthy and gorgeous as possible, what else are you passionate about?
I love so many things! I'm an avid painter at home. It's incredibly therapeutic. When my father passed away, I found that painting was the only way I could feel understood. It was an odd thing, because I wasn't even being understood by anyone else, but by myself. I hadn't painted in some years, and now I keep sketchbooks and paint a lot of abstract portraits.
- Omayma's Take on Beauty -
What's your point of view on beauty today?
I absolutely love the minimal aesthetic of beauty at the moment. The undone, very real, very raw, beauty in being a woman. I think it's incredibly empowering!
As a movement, the Clean beauty space is bigger than ever, and growing at an ever rapid rate. This makes me so happy, as I am so passionate about clean beauty, and knowing what we put on our skin and in our bodies. Having organic ingredients and a clean formula was so important to me in developing my facial oil elixir.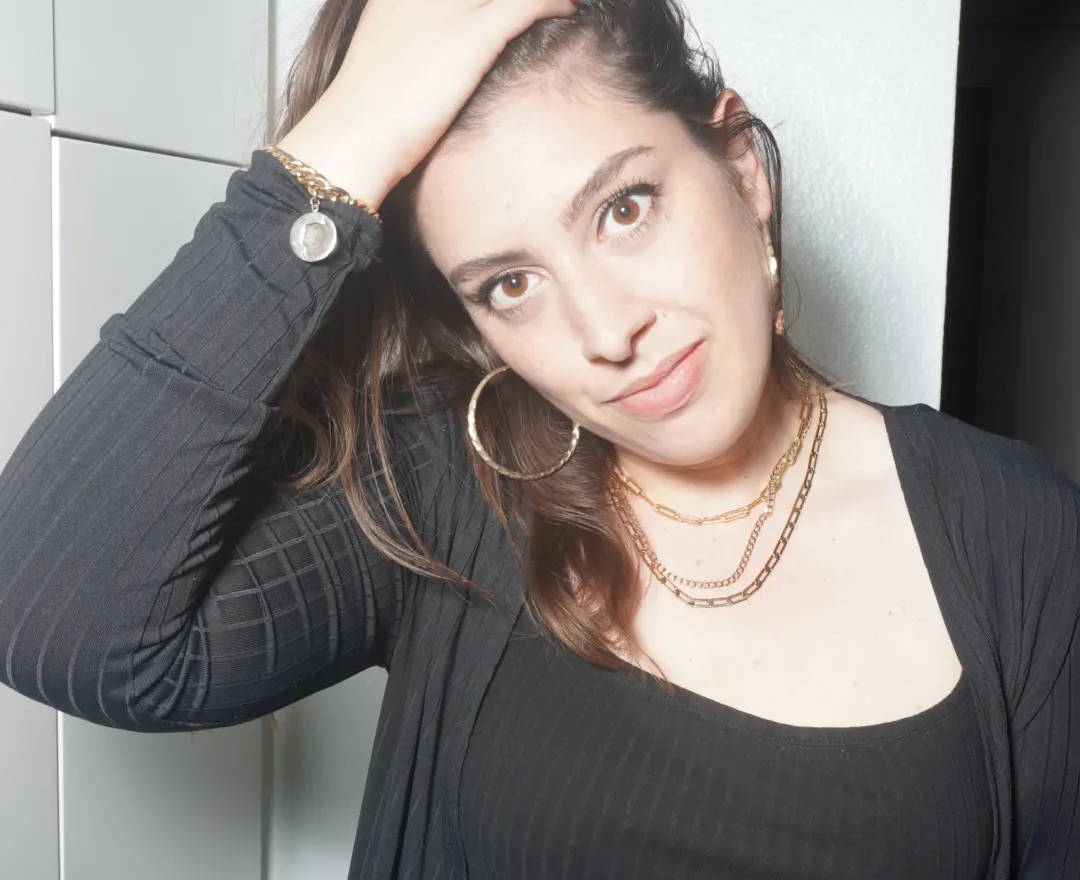 What do you think makes a woman beautiful?
Confidence! Always! I think we are all so beautiful, but nothing saddens me more than when someone doesn't see their own beauty.
What Inspires your style?
I love the model-off duty relaxed, yet put together LA style. I work with so many amazing models who of course are so stylish, and I feel like I draw from a lot of their styles. I'm a London girl through and through and London street style never gets old for me.
What are your everyday jewels?
I wear so many! I usually wear 5 rings on my hands. A vintage Egyptian Ankh ring with a diamond in it, a silver "sister" ring I got myself from portobello market in London after my dad died to remind myself to be a better sister, a vintage ruby ring I got in the first ever vintage market I went to with my mum back when I was about 15, a cigar band ring that says "Proteggimi" meaning protect me in latin from Cleopatra's bling, and another Egyptian ring from my friends brand cristalore. On my ears my go to is a pair of vintage hoops I picked up on my friends wedding at the coolest thrift shop.
For necklaces I have three that I love to stack on top of each other from my friends brand Society Nautique.
I love wearing a lot of jewelry over a relaxed outfit all the time, as it just makes me feel so much more put together.
What's your favorite family heirloom?
One is my dads tabla (Egyptian hand drum). It's one he had made specially and is covered intricate designs of mother of pearl with his signature emblem encrusted in it. It lives in my living room.
Another is a tiny signet ring that my aunt gave me on my mother's side. Our family name (on my mum's side) is Fenwick, coming from the word Phoenix, which is the family crest image, of a Phoenix rising from its ashes. The signet ring is made from a small piece family gold that had been passed down our family for several hundred years and so it's quite special to me.
What is your daily uniform?
My go-to daily wear is black jeans, a vintage tee, some fresh sneakers or Chelsea boots. I love pairing a blazer with a t-shirt too. Living in LA has given me the art of casual wear, but dressing it up with embellishments like a lot of rings, layering necklaces and always hoops.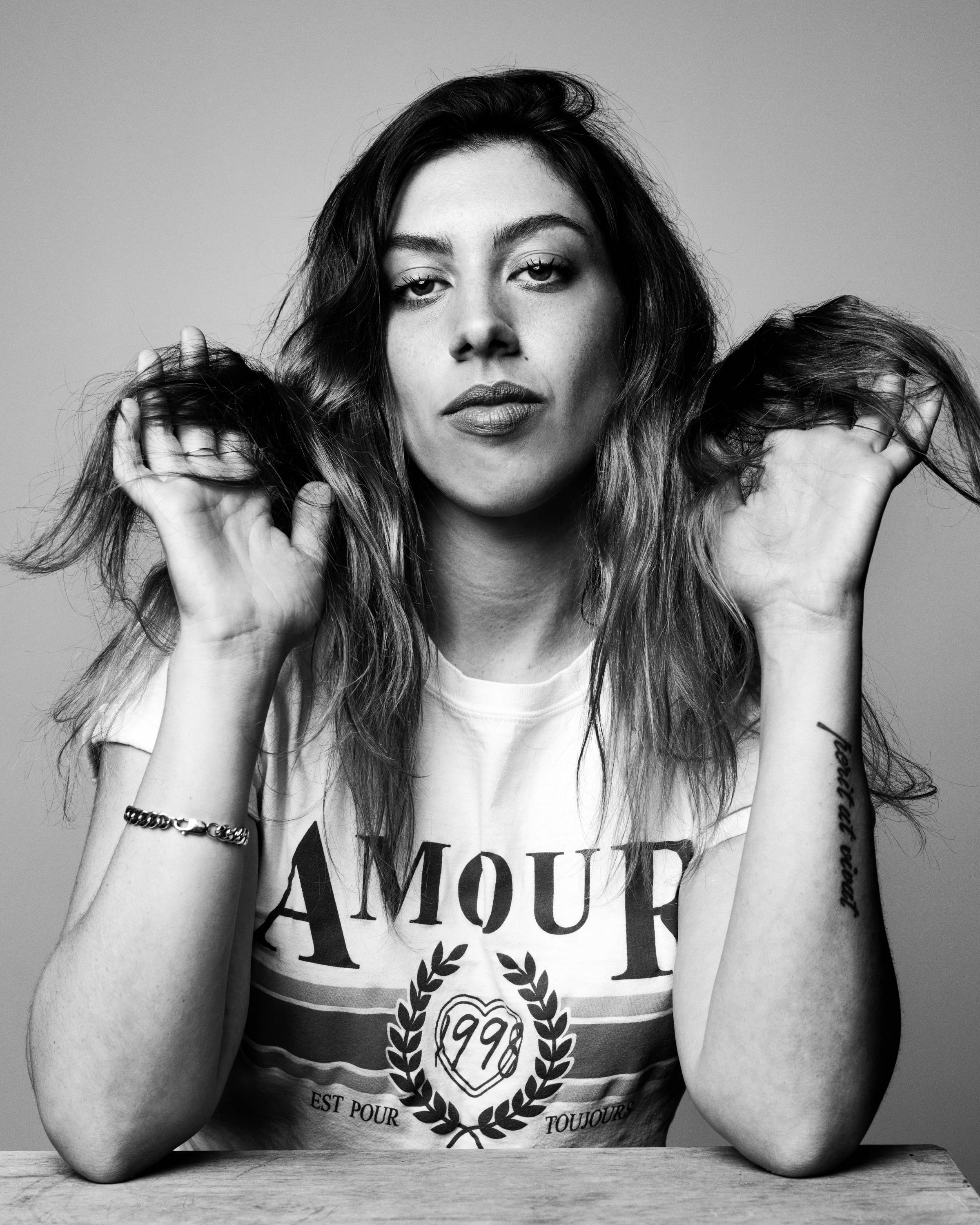 What's next for Omayma in 2021? Has this past year (2020) had any impact on your business, negative or positive?
I think like for so many people, 2020 taught me what it means to really have to rethink absolutely everything. I think every element of my life has had a complete do over in the last year. When the lockdowns began, I had to do a complete pivot, with my work as a makeup artist being no longer essential or deemed safe, I had no option but to rethink my next steps and career. I had luckily already been about 50% through the development of my skincare brand, and so took the opportunity to drive it home and go for it. In the 3 month period where I absolutely could not work I learned graphic design, product design, some basic web development and a few other things I needed to get the launch done. So I suppose 2020 has been very positive in that regard!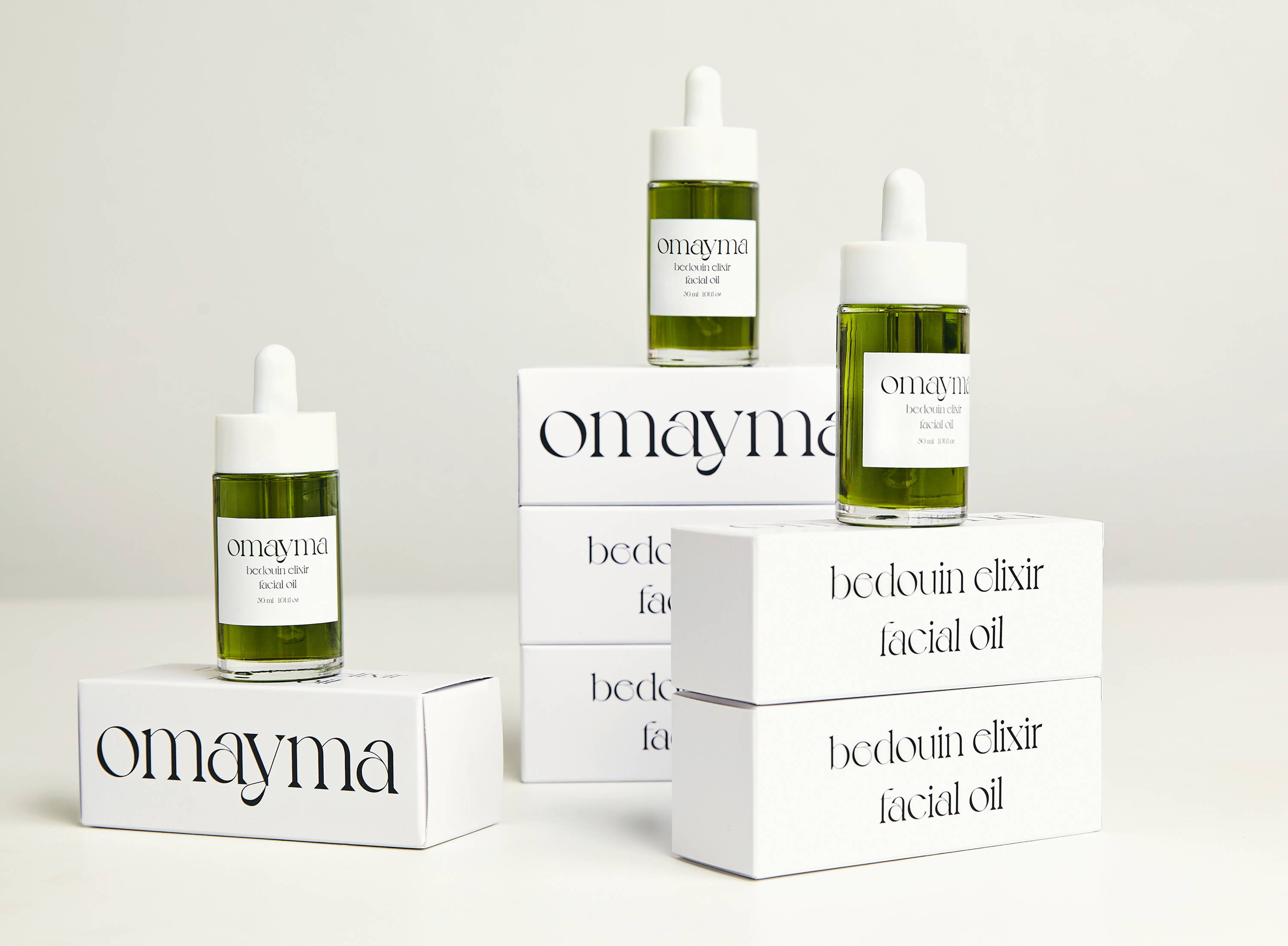 Any fun "behind the scenes" of your life you can tell us?
Being a makeup artist in the Fashion industry is truly a LOT of fun! I make it a point to have a lot of fun with everything I do, whether it be at work, with my friends, or even just me! I try my best to keep things light and playful at work- after all we aren't curing cancer! And if it isn't fun, why do it?
Another thing I absolutely love is cooking! I love making pasta from scratch, I cook up a mean Full English Breakfast with all the works, I absolutely adore cooking Moroccan Tagines (with lamb, apricots and dates just wow!) as well as when I'm really going for it, I'll spend 3 days whipping up the best Indian food of your life.
If you could have dinner with anyone in history, who would it be and what would you eat?
My dad!! I miss him a lot. And I miss his cooking! I think I would make him cook me the crepes he would make me as a little girl, followed by his Egyptian chicken dish, his aubergine (eggplant) moussaka and then we would have profiteroles with ice cream.
What is your favorite "go to" on social media?
My go-to is to try and stay off it! It can be quite a distraction!! I find that if I'm endlessly scrolling on instagram (which does happen, let's be real) I feel a bit unaccomplished.
With my brand and work, I feel that instagram and social media has become such an ingrained way of getting your work seen and staying on people's minds, so I try my best to be intentional about what I'm posting or putting out there; try and not spread anything upsetting that doesn't put forward solutions or ways to really tackle a problem (a personal choice); and try to engage with my social media friends to the max!
Check out Omayma online at:
www.omaymaskin.com and on IG @omayma.ramzy & @omayma.skin